Note: We recommend that your print out the map below and follow it closely to arrive at our Toyota City location.
Address
1 Toyota-cho, Toyota, Aichi, 471-0826 Japan
By rail
It takes about 1 hour 30 minutes from Nagoya Station to the museum.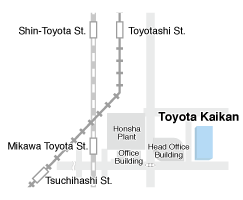 All information included is as of 15 March. 2014 and subject to change.
Please find latest information on a train route guide website before traveling.