Facility Information and Usage Guide
Information on Toyota Kaikan Museum facilities and important information regarding reservations
Toyota Kaikan Museum
Facility Overview
Closed:
Sundays, during the New Year's holiday, Golden Week, and summer vacation period and at some other times
Languages Used
Japanese, English, and Chinese (dedicated staff are not available to provide information)
Parking (free)
Approximately 800 spaces for passenger cars (multi-story parking garage at the front of the museum) and approximately 20 spaces for large buses
Dining Facilities
Restaurant Soshio and a Starbucks coffee shop are located on the basement level.
Wudu
An area is available for prayer. Please consult with reception.
Network Services
Public Wi-Fi is available ( except Safety, Production, Company & Society, and Car Classroom areas)
How to Make Reservations for the Toyota Kaikan Museum
Visitors coming by chartered bus
Visitors must book seats in advance online.
Please confirm availability using the link below and make a reservation
Reservations are not needed for individual visitors to the Toyota Kaikan Museum.
Visitors with Disabilities
To ensure your safety, we will provide accessibility information regarding the Toyota Kaikan Museum before making a reservation. Please contact the Museum as indicated below.
* Please note that it may not be possible to accommodate requests depending on the status of reservations.
Accessibility Information
Toyota Kaikan
Handicapped Parking
Special-purpose handicapped parking is available for seven vehicles.
* The Toyota Kaikan Museum is accessible from the parking spaces by ramp.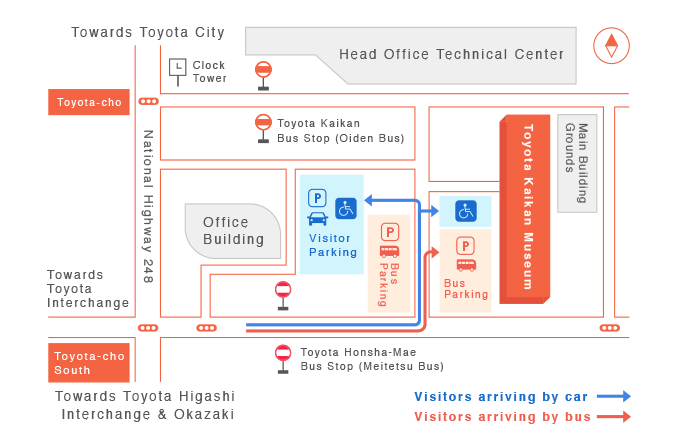 Elevators
Elevators provide access to all floors from the basement level to the second floor.
Toilets
Multi-purpose (wheelchair accessible) toilets are available.
Wheelchairs
Three wheelchairs are available for use by visitors (For use inside the museum only. Please inquire at the reception desk).
Nursing Facilities
A nursing room and diaper-changing baby seat are available.
Strollers
Three strollers are available for use by visitors (For use inside the museum only. Please inquire at the reception desk).
Plant Tours
Elevators, multi-purpose (wheelchair accessible) toilets
Toyota is working to make the plant tour route fully accessible, but the tour may include plants that do not have elevators or areas equipped with multi-purpose toilets.
Wheelchair Users
The plant visited on the tour vary depending on the season, and touring a plant in a wheelchair may not be possible. If a visitor wishes to attend a tour in a wheelchair, please inquire in advance.

Important Information Regarding Toyota Kaikan Museum Tours
Please refrain from the following:

・Bringing pets into the museum (excluding guide dogs and other assistance dogs)
・Eating, drinking, or smoking in the exhibit areas

Photos may be taken in the museum.

* If you wish to take photos for media coverage, please contact the museum by telephone in advance.
Museum Shop
Hours: 9:30 a.m. – 5:00 p.m.
The museum shop on the second floor offers a variety of items such as automotive-themed goods like plastic models, miniature toy cars, and books.